Cajun chicken burrito bowls that are packed with flavor and all cooked in less than 30 minutes in just one pot.
Jump to Recipe keyboard_arrow_down
518 CALORIES

39g CARBS

23g FAT

38g PROTEIN
9
Freestyle™ SmartPoints™ New!
(11 Old SmartPoints™)
(13 PointsPlus®)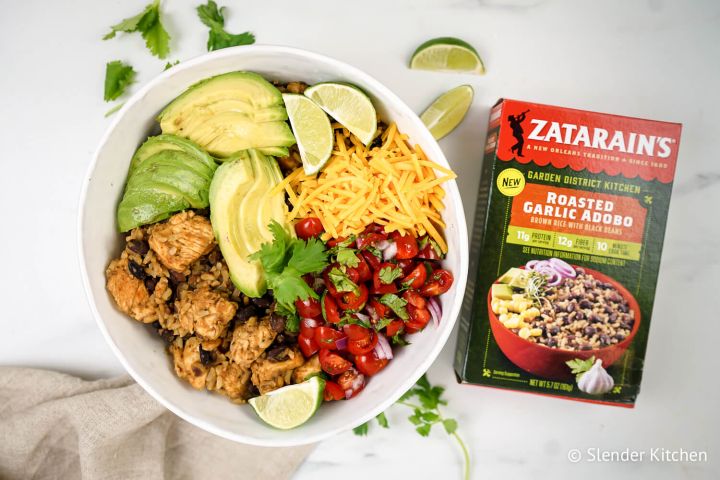 One Pot Cajun Chicken Burrito Bowls Recipe
Today's post is brought to you by Zatarain's® Garden District Kitchen Rice but all opinions are 100% mine and I only share products that I truly love and use in my kitchen.
This healthy, filling, and good-for-you One Pot Cajun Chicken Burrito Bowl comes together in less than 20 minutes and tastes incredible. You're going to love it! Whether you make this for an easy weeknight meal or use it for meal prep, your tastebuds will be happy.
With the school year in full swing, life is busy. Between homework, activities, and endless to-do lists, sometimes it feels like getting a nutritious meal on the table is impossible. That's why I am so excited for today's post. In less than 20 minutes, you can have a delicious meal on the table that's easy to prepare and is good for you.
What's the secret? Using Zatarain's new Garden District Kitchen Rice mixes, it's easy to build a flavor packed meal that's healthy, hearty, and doesn't sacrifice taste.
Today I am going to share one of our family favorites – Cajun Chicken Burrito Bowls – but there are so many ways to get dinner on the table starting with these rice mixes as your base. They are ready in just 10 minutes and come in so many tasty flavors. Plus they are packed with up to 11 grams of plant based protein, 14 grams of fiber, and are gluten-free, free of artificial flavors, colors, and MSG. It's a product you can feel good about feeding your family.
Now let's dig into these Cajun Burrito Bowls! For this dish, I used Zatarain's Roasted Garlic Adobo Brown Rice and Black Beans Mix. With classic New Orleans flavors like roasted bell peppers, onions, and garlic, the rice mix becomes the flavoring agent for the whole dish. The chicken cooks alongside the rice, soaking up all those yummy flavors. Then all you need to do is grab all your favorite toppings and you are ready for dinner. Quick, easy, and nutritious.

Topping Ideas
In our house, I like to set up all the condiments and toppings and let everyone build their own bowls. Here are some ideas for what to include:
Salsa: Since this dish is already packed with tons of flavor, I like to go with a simple salsa like pico de gallo. You could also opt for a New Orleans style hot sauce for more of a Cajun feel.
Cheese: We like to use some shredded cheddar or jack cheese in this dish since it pairs nicely with the flavors in the rice.
Veggies: Add shredded lettuce, chopped tomatoes, diced red onion, cilantro, or leftover cooked veggies. You can also bulk up the rice with 1-2 cups of cauliflower rice to sneak in even more plant power.
Sour cream or Greek yogurt: For a creamy element, top everything with some light sour cream or yogurt. We have also been known to drizzle on some ranch dressing or a creamy Cajun remoulade.
Avocado: In our house, it's not a burrito bowl if it isn't topped with some avocado or guacamole.
How to Meal Prep Cajun Chicken Burrito Bowls
This recipe is amazing for meal prep since it comes together so quickly. Start by making the chicken and rice. Let that cool completely and then divide among your meal prep containers. Add your toppings and store in the fridge for 4-5 days. A quick storage tip – pack any topping you don't want to heat up on the side.
Before we get to the recipe itself, I wanted to share some more tips about using these awesome rice mixes as meal starters. They truly do all the heavy lifting for you and make getting dinner on the table stress-free.
How to Use Zatarain's Garden District Kitchen Rice to Build Other Easy, Nutritious Meal
Like I said before, these rice mixes are the perfect base for making an easy dinner or for weekend meal prep.
Pick a protein: If you want to add some extra protein, start by browning your protein in some oil or butter. Lean proteins like chicken or ground turkey can be cooked alongside the rice whereas quick cooking proteins like fish or shrimp, should be removed from the skillet and added back before serving.
Add the Garden District Rice Mix: This is where you will get your flavor. Choose from Roasted Garlic Adobo Brown Rice with Black Beans, Salsa Verde Brown Rice with Red Beans, Lemon Butter and Herb Brown Rice with White Beans, Spanish Style Brown Rice with Bell Peppers and White Beans, or Parmesan Garlic Brown Rice with White Beans. Simply follow the instructions on the box and in 10 minutes, it's ready.
Build a Power Bowl: Add all your favorite toppings – roasted veggies, avocado, sauces and salsas, cheese, fresh herbs, nuts, seeds, and more. The possibilities are endless.
Here are some delicious examples: Parmesan Garlic Rice with Chicken and Spinach, Salsa Verde Rice Breakfast Bowls, and Lemon Butter Herb Rice and Shrimp Scampi.
Ready to get started! Head to your local grocery store and find all the Zatarain's Garden District Kitchen Rice Mixes in the rice and grain section. It has everything you need to build a delicious dinner in no time.
Source link