This Sugar Snap Pea Pasta with crispy bacon, cherry tomatoes, Parmesan cheese, and fresh lemon is bright, rich, and bursting with flavor.
Jump to Recipe keyboard_arrow_down
412 CALORIES

60g CARBS

20g FAT

16g PROTEIN
8
Freestyle™ SmartPoints™ New!
(8 Old SmartPoints™)
(10 PointsPlus®)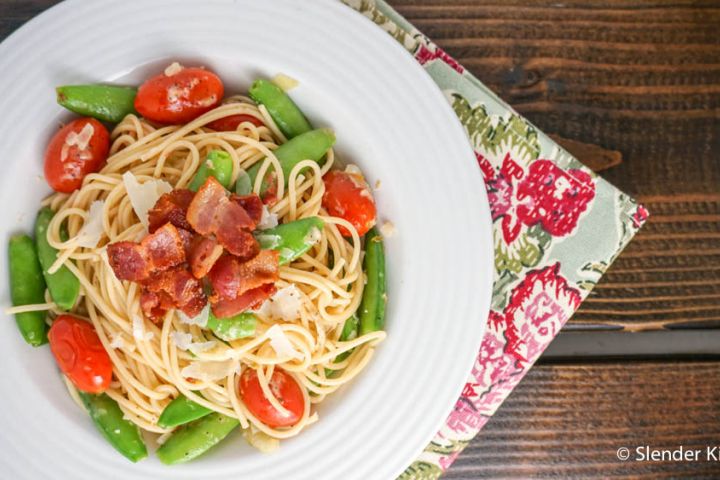 Sugar Snap Pea and Bacon Pasta Recipe
This easy snap pea and bacon pasta recipe has everything you want in a vegetable pasta dish. It's bright, packed with veggies, and still tastes rich from the Parmesan cheese and bacon. So good. Plus pasta is a great vehicle for getting everyone to eat their veggies, like this Roasted Vegetable Pasta and Creamy Tomato, Mushroom, and Spinach Pasta.
Let's start today with a bit of a disclaimer about today's recipe. It isn't the most healthy – it has bacon and butter and cheese and pasta! But even with all those things it still comes in with under 400 calories. For me, this signifies balance and moderation.
Sometimes all I want is a warm comforting bowl of pasta and if I continually ignore that craving, I will likely replace it with all kinds of other unhealthy choices until I cave and just have the pasta. So why not have it from the start and find a way to do it that both satisfies my craving and doesn't leave me feeling like a ton of bricks. This recipe for sugar snap pea pasta with bacon and Parmesan cheese absolutely does that for me. It's the perfect balance of healthy and indulgent at the same time.
Not to mention that the combination of crunchy sweet sugar snap peas, punchy cherry tomatoes, creamy Parmesan, salty bacon, and lemon is amazing. It's seriously delicious and one of those meals that you will keep thinking about later that night and the next day. 
One more thing I love about this recipe is the sugar snap peas themselves. I feel like they are a vegetable that is often overlooked when it comes to actual cooking. Many times we think of them as a snack for kids or something to dip. But they are so good cooked. They get even sweeter, maintain tons of crispness as long as they aren't overcooked, and are a nice switch from the standard green veggies we tend to use over and over again. I'm looking at you broccoli and zucchini. So get yourself some snap peas and pasta and add this to your menu.
Recipe Ideas for Sugar Snap Pea Pasta
If you like a creamier sauce, add some reduced fat cream cheese or ricotta to the sauce to create a creamy version.
If you prefer a more tomato-based sauce, add a can of fire-roasted diced tomatoes to the pasta instead of the cherry tomatoes. This is a good option when you can't find good tomatoes.
Make it spicy by adding some red pepper flakes when cooking the onions and garlic.
If needed, you can use frozen sugar snap peas for this recipe. Just know that they will be a little softer than if you used fresh.
Mix things up with more veggies. Consider adding peas, zucchini, broccoli, or cauliflower.
Although I prefer using pork bacon for this recipe, turkey bacon will work as well. Just note, that you may need to add a touch of olive oil since it doesn't have the same amount of fat.
Kick up the health benefits in this recipe by using a whole-wheat, chickpea, or lentil pasta instead.
For some added crunch and flavor, top your pasta with pine nuts.
For a lighter option, make this dish with zucchini noodles or spaghetti squash.
How to choose and prep sugar snap peas?
Most of the time, it is hard to find loose sugar snap peas in the grocery store. Instead, they are usually bagged and kept near the bagged lettuce and veggies. However, if you are lucky enough to pick them yourself, look for snap peas that are bright green without brown or soft spots. They should be firm and making a snapping noise if you break them. 
When it comes to prep, you have two options. Everyone will want to cut off the stem, since it is tough and stringy. Then it is up to you if you also want to remove the string that runs along the inside edge of the snap pea. Usually, you can just peel it off with the stem. Many people find this string tough and prefer snap peas without them, but there is no danger in eating the string.
Can I meal prep this snap pea pasta?
The leftovers from this dish will keep in the fridge for 2-3 days and can make a great easy lunch or dinner. If you are planning on having leftovers, make sure to let the pasta fully cool before packing it up. Another trick when cooking pasta for meal prep is to cook it more al dente so that it doesn't get soggy when you reheat it.
Looking for more sugar snap pea recipes?
Source link