Watermelon and Avocado Salad with Honey Lime Vinaigrette makes a refreshing and light summer salad that's ready in less than 10 minutes.
Jump to Recipe keyboard_arrow_down
141 CALORIES

13g CARBS

10g FAT

3g PROTEIN
4
Freestyle™ SmartPoints™ New!
(4 Old SmartPoints™)
(4 PointsPlus®)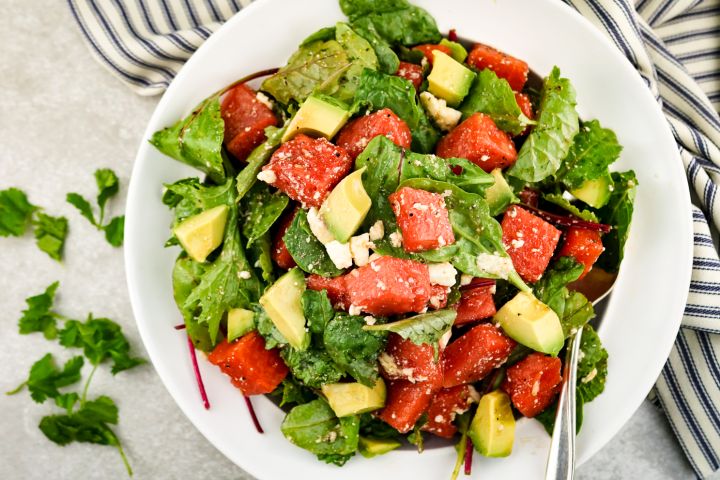 Watermelon and Avocado Salad with Honey Lime Vinaigrette Recipe
Watermelon Avocado Salad combines sweet watermelon and creamy avocado with greens, cilantro, queso fresco, and a delicious honey lime dressing. I love serving it with this Grilled Sriracha Barbecue Chicken or Grilled Spice Rubbed Salmon.
Ever since I ate my first watermelon salad I have been a huge fan, especially when its paired with a tangy cheese like feta or queso fresco. In fact, every summer for the last 3-4 years, its the first thing my brother requests when we meet up at my parent's house in New England.
Usually I make this classic version with cilantro, red onions, and feta cheese but lately, I have been loving this version with avocado and Mexican queso fresco. If you haven't had queso fresco before, it's a fresh cheese that is a bit like feta but slightly less salty and assertive. Think of it as milder feta and perfect for anyone who finds feta a little too pungent and overpowering. 
Now let's get back to this salad. If you aren't sure about pairing watermelon with cheese, you just have to take the leap and try it. I promise it works. The sweetness of the melon paired with cheese and avocado is really tasty, especially when it is all pulled together with a simple honey lime vinaigrette. You could also throw in some sliced jalapeno if you like things with a hint of spice. I usually add either slices jalapenos to the salad itself or some diced jalapenos to the dressing since I am always looking for a touch of heat.
Tips for Making Watermelon Avocado Salad
When it comes to the cheese, in my opinion, you have three options – queso fresco, feta, or goat cheese. I have tried it with some other cheeses and it just doesn't come out as good.
Although my preference in this salad is cilantro, you can also use fresh mint instead. It changes up the flavors a bit but is still really delicious and pairs nicely with the lime vinaigrette.
Since the watermelon brings a ton of flavor to this salad, make sure you have a ripe and flavorful watermelon. 
When it comes to greens, I like to use a spring mix or arugula. The arugula works well since it adds a peppery flavor to the salad.
With the avocado and watermelon, I don't recommend making this salad ahead of time since the avocado will brown and the watermelon can get soggy. However, you can make the dressing ahead of time.
What to Serve with Watermelon Salad
I would happily eat this watermelon salad with pretty much anything and happily eat it for lunch with some leftover chicken, salmon, canned tuna, or canned chickpeas. However, if you are making this for a meal or party, here are some of my favorite main dish options:
For a vegetarian option, consider making this Grilled Cilantro Lime Tofu. It's the perfect combo with this salad. We also love this Cilantro Lime Chicken.
This is a great side dish for classic burgers, turkey burgers, or chicken burgers. Since I love pairing spicy with sweet, I will usually add some chopped jalapenos to my burger meat.
This salad is a nice light option to pair with grilled pork or steak. Add some corn on the cob and you have a really delicious dinner.
For a really simple meal, throw some shrimp on the grill or in a saute pan with Cajun seasoning. The spice works great with the sweetness of the watermelon.
Looking for more summer salads?
Here are some tools I used when preparing this recipe:
Salad bowls: When I am making a salad for a quick meal at home, I usually reach for these simple glass bowls for both making the salad and serving it. I love that them come with an optional lid so I can just toss the leftovers in the fridge after the meal. For fancier meals or when we have friends over, this is my go-to salad bowl.
Although I don't mind cutting up my watermelon using a knife, I know many people love these watermelon slicers. They scoop the watermelon right out without the rind and without a lot of mess.
I make a ton of homemade salad dressing and usually make enough to have for salads throughout the week. I love using this dressing container to both make dressing (easy to read measurements right on the container) and store dressing.
Source link